Japan Medical Device Corporation (Headquarters: Shinagawa-ku, Tokyo, Representative Director: OKANO Takafumi, hereinafter referred to as "JMD") and PIA Co., Ltd. (Headquarters: Shinagawa-ku, Tokyo, Representative Director: NAKANISHI Kiyoshi, hereinafter referred to as "PIA") have concluded a joint research agreement with UT-Heart Inc. which is a venture originating from the University of Tokyo and Fujitsu Limited in April and November 2020 on the development of new programmed medical devices using the heart simulator
The heart simulator (see below) is technology that can faithfully reproduce an individual's heart movements in detail by using clinical data including CT and ultrasound images as input data and calculating electrical and mechanical behavior at the molecular level using the computing power of a supercomputer. Currently, we are researching and developing various services for practical use using this heart simulator.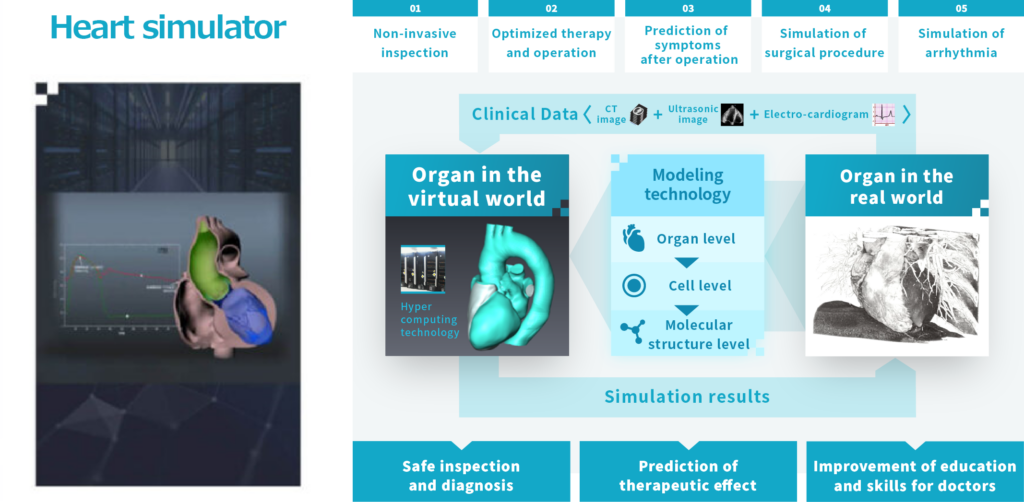 On July 9~11, 2021, the 57th Annual Meeting and Scientific Meeting of the Japan Society of Pediatric Cardiology (https://www.c-linkage.co.jp/jspccs57/, hereinafter referred to as "the Society") was held, and Prof. HISADA Toshiaki and Prof. SUGIURA Seiryo of UT-Heart Inc. Ltd., who are advisors to JMD, gave an invited lecture 15 (commemorative lecture to commemorate the Japan Academy Prize) and presented our research on the heart simulator under the title of "Support for treatment planning of congenital heart disease by fusion of the real and virtual".
We are currently conducting joint research with the National Cerebral and Cardiovascular Center, the University of Tokyo, UT-Heart Inc., and Cross Effect Inc. toward the practical application of the contents of this presentation. This joint research has also been adopted by the Japan Agency for Medical Research and Development (AMED) FY2020 of the Advanced Medical Devices and Systems Technology Development Project (Fundamental Technology Development Project). The joint research efforts were also introduced in the video advertisement during the session intermission of the Society.
In response to the presentation at this conference, we will further accelerate the practical application and commercialization of the heart simulator, contribute to the progress of heart disease treatment around the world, and contribute to the improvement of QOL (Quality of Life) for all humankind.
【Inquiries regarding this release】
Japan Medical Device Corporation
Person in charge: OKANO Takafumi
PIA Co., Ltd.
Person in charge: OU Saikai
MAIL: contact@jmd-corp.com